EVERYTHING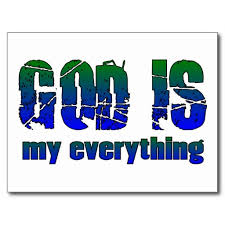 •Believers today need to be reminded that all our blessings come to us because of God's eternal covenant with His Son (Heb. 13:20) and the New Covenant which Jesus made through His sacrificial death on the cross (Luke 22:20; 1 Cor. 11:25; Heb. 8–9).
•We aren't blessed because of what we are in ourselves but because of what we are in Christ (Eph. 1:3–14).
•To love God and worship and serve Him is the highest privilege we can have, so when the Lord commands us to love, He is inviting us to that which is the best.
•But our love for God must involve the totality of the inner person—"with all your heart … soul … and strength."
•The phrase simply means "all that is within you" (Ps. 103:1), a total devotion to the Lord. If the inner person is completely yielded to the Lord and open to His Word as ministered by His Spirit, then the feelings will follow.